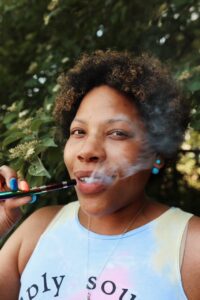 Another day, another time, it's Comfy Talks where we break down and grind. Today on the agenda we've got one of our classic strains WHITE WIDOW. Let's dive in deep and see just why this classic flower strain is an OG in the industry and deeply loved by many across the 7 seas. 
In 1994, GreenHouse Seeds, located in the Netherlands, crossed a Brazilian Sativa Landrace & South Indian Indica to produce the world renowned White Widow. The South Indian Indica makes Widow sticky icky and one of the most sought out strains for hash and resin products. This resin-heavy strain is known for it's high yields when processed into cannabis concentrate.
As for the common medical uses of White Widow is depression, stress, PTSD, and pain. All of these benefits combine to make a strain that is highly suggested for veterans and those affected by their time in service. White Widow is also known to give the consumer a boost of energy for physical exercise or outdoor activities. 
Fun fact and a dash of scandal for ya, some employees of GreenHouse deuced out (quit & walked out) with some of the genetics of White Widow and started growing it under a new name; Black Widow. Yup, you read that right, THEY ARE THE EXACT SAME STRAIN! Both groups claim that theirs is the "original" of the strain. 
White Widow has produced many more well known strains. It is the mother plant of the following: White Russian, White Rhino, Blue Widow and many more!
CannaMed Dispensaries carry White Widow grown by Hicksford Farms. This phenotype of the strain represents a fairly balanced Indica-dominant Hybrid. When speaking to my patients, I often equate it to sour patch kids; one minute it's sweet, the next sour. The aroma smells like a sugary diesel factory with a slight cheese aftertone. The taste is a match to the smell and has a slight sweet aftertaste. We also carry this strain in Full Spectrum White Widow cartridges, all-bud White Widow prerolls, and Full Spectrum White Widow gummy packs!
Come by either CannaMed today to experience White Widow yourself! Open 7 days a week and now with two locations, always trying to make it easier for you to get Elite Medicine.
Thanks for reading!